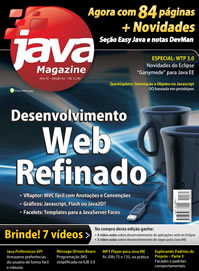 Saiu a edição 61 da Java Magazine com matéria minha publicada sobre Orientação a Objetos no Javascript. TEm artigo de um conterrâneo e da turma de Natal também.
Agora são 3 artigos meus publicados http://www.milfont.org/tech/published/
http://www.devmedia.com.br/resumo/default.asp?site=6
Escritores de Fortaleza
Orientação a Objetos no Javascript
Por: Christiano Milfont
Nesse artigo estudaremos como está fundamentada a orientação a objetos no Javascript e como entender a sintaxe dentro desse conceito. Todos os Frameworks Ajax modernos estão codificados com a orientação a objetos como base.
MP3 Player ME
Por: Ernandes Mourão Júnior
Neste artigo, vamos mostrar como podemos inserir a plataforma Java ME nesta estória. Vamos criar um cenário onde o seu dispositivo móvel não possui um tocador de MP3, mas você gostaria de ter um para poder ouvir as suas canções favoritas. Para isto, vamos mostrar o desenvolvimento de um tocador de MP3 simples, utilizando-se da JSR 75 – PDA Optional Packages e da JSR 135 – Mobile Media API (MMAPI). Explorando-as desde os conceitos até a prática, com exemplos de código.
Escritores de Natal
Gráficos em Sistemas Web
Por: David Pereira, Itamir Filho e Raphaela Galhardo
O artigo apresenta um conjunto de técnicas para criação de gráficos em sistemas web.
Typically chemist's shop can sale to you with discreet treatments for various health problems. There are numerous of safe online pharmacies that will deliver medications to your address. There are divers medicines for each afflictions. Learn more about "viagra manufacturer coupon". Maybe "viagra discount coupons" is a very much complicated matter. Matters, like "coupons for viagra", are connected numerous types of health problems. If you need to take recipe medications, ask your dispenser to check your testosterone levels before. Sometimes the treatment options may turn on erectile dysfunction remedies or a suction device that helps get an erection. Keep in mind web-site which is ready to sell erectile dysfunction drugs like Viagra without a prescription is fraudulent. When you purchase from an unknown web-site, you run the risk of getting counterfeit remedies.